Subdivision of Wagashi
After I explained Wagashi, I would like to dedicate the next articles to types of Wagashi.
Wagashi can be divided according to type of production, type of use, historical background, occasion of serving and water content.

The less water they contain, the more dry they are, the longer they last.

I've tried to collect some information:



Subdivision by water content:
Namagashi (raw sweets) (30%), B. Mochi (raw half-cooked sweets, which are very soft)
Han-Namagashi (10-30%), (half-dried), e.g. Yokan (jelly) (half-cooked sweets made from fresh ingredients – baked, cooked, little liquid)
Higashi (less than 10%) (dry sweets), for example, B. Conpeito (sweetened) (made of rice flour or other flour)
The luxury variants are Jonamagashi / Jogashi. Made of the finest ingredients, they are artworks with seasonal reference.
Nature pictures such as flowers, leaves, but also haiku, sagas and stories are used as motifs.
Chaseki-gashi is produced especially for the tea ceremony.

The oldest forms are Senbei, rice biscuits, which are baked from rice flour and water. The dough is steamed, kneaded, shaped, dried, roasted, fried and / or seasoned.
Dry sweets made from rice and wheat flour, as well as powdered grain are called Rakugan.
The following two varieties aren't  Wagashi, but they are sweets too:
Western sweets, such as, B. Kasutera (biscuit cake), are called Namban-gashi.
Dagashi are popular simple sweets, B. Okashi (cake).
At Wagashi Maniac you find more information about kind of wagashi devided according to the water content.
About the historical subdivision I can't say anything at the moment. If I find something in my research, I will complete it later.

Subdivision of Wagashi according to occasion
The variety of wagashi according to occasion: It's the question, to what occasion which division of wagashi is cooked or served.
Kokei-Gashi is an art made from the ingredients for Wagashi. A kneadable dough is made from special sticky rice flour, which is called "mijin-ko" (rice flour) and sugar. Motifs are the beauty of nature, poems, legends and legends.

Nami-Namagashi are served as everyday, fresh sweets with tea (Oyatsu) or as a snack. Bound to the seasons certain you can buy speciel varieties of wagashi at certain times (Ex: Mochi, Dango, Dorayaki, Manju).
Jou-Namagashi are Wagashi of higher quality than Nami-Namagashi.
Tyaseki-Wagashi is produced explicitly for the tea ceremony.
On certain holidays or occasions, for example Shikigashi (for example, Kohaku Manju) can be given as wedding gifts.
To bring Makigashi as a souvenir is a Japanese wedding consumption.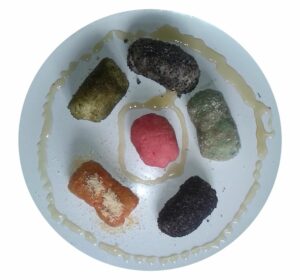 One goal would be to create a "wagashi calendar". This means to collect, at what time which Wagashi are served or offered.
Subdivision of Wagashi by type of production
There are different varieties of Wagashi to prepare.
Wagashi made from rice is usually steamed. But you can also bake or fry them.
If it's wagashi Wagashi, which are made of water or juice, so we get a jelly, we use the gelling. Gelling agents used for this are Agar Agar and Kuzu Starch.
Dry Wagashi are pressed into a solid form.
An operation which is used in the predominant part of the Wagashi is forming.
Depending on the Wagashi, these can be different procedures. In most cases, you first dampen the dough and form it after that.
I have listed here the Wagashiarten once and how these can be prepared.
Namagashi:
Mushi Mono: damped
Yuki Mono: baked
Yaki Mono: baked flat in the pan
Obun Mono: baked in the oven
Nagashi Mono: gelled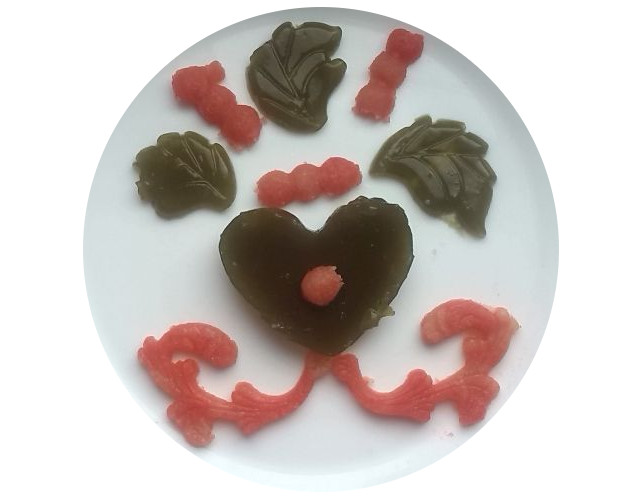 Neri Mono: kneaded
Uchi Mono: formed
Oshi Mono: pressed
Age Mono: fried
Mochi Mono
Han-Namagashi:
An Mono
            Oka Mono
            Yaki Mono: baked
Hiranabe Mono: baked flat in the pan
Obun Mono: baked in the oven
Nagashi Mono
            Neri Mono
Higashi:
Uchi Mono
Oshi Mono: pressed
  Kake Mono: sweets like small stars with a pointed form
Yaki Mono: baked
Ame Mono: made of sugar
Unfortunately I can only list the name of some Wagashi. If I find more information, I will supplement it, respectively add it to the Wagashi Lexicon.
You can look at a picture of Kake Mono könnt at Asahi .
You can read more about varieties of wagashi on Wikipedia and at Okinyana Sohonpo.
Sources:
Wagashi Maniacs article: Wagashi – art and tradition
Merken
Merken
Merken
Merken
Merken
Merken
Merken
Merken
Merken
Merken
Merken
Merken
Merken
Merken
Merken
Merken
Merken
Merken
Merken
Merken
Merken
Merken
Merken
Merken
Merken